Mark Hurd was the last guy who you'd think would end up the subject of sordid speculation. But sometimes "the last guy's" turn gets called. Now who's next in the hot seat?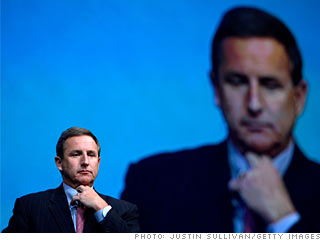 Talk about a shocker. When Mark Hurd joined Hewlett-Packard (HPQ) in 2005 he aimed to reduce the drama at the staid company that had seen a little too much razzle dazzle under his predecessor, Carly Fiorina. She was all Davos, contentious mergers and missed numbers. He'd go to St. Louis (to see customers), buy companies that wanted to get bought, and delight Wall Street.
Hurd was the last executive on earth you'd expect to resign under a cloud of suspicion about improper relationships. It's the corporate version of the old  serial killer cliche ("He was so quiet and such a good neighbor!"). But just look at HP archrival IBM (IBM), where the same "last guy on earth" argument proved flawed when former top executive Robert Moffat was arrested for conspiracy related to insider trading. [See "Dangerous liaisons at IBM: Inside the biggest hedge fund insider-trading ring"]
The first time I interviewed Hurd was the day he announced massive layoffs at the company. I asked him how it felt to fire so many people. "Not good" was his terse response. He was as direct, candid and efficient about just about everything. My most recent interview with Hurd was just over two weeks ago, an off-the-record meeting Fortune Managing Editor Andy Serwer and I held with him for nearly an hour. If Hurd was the least bit concerned about his job that day, he didn't let on to us. He was confident and relaxed, displaying his typical facility with numbers -- about HP and the competition -- and was downright expansive on a variety of tech-industry topics.
Wall Street loved him for whipping an unruly HP into shape and more than doubling the value of the faltering company. Employees weren't nearly as fond of him after all the cost cutting. Recent "voice of the workforce" scores have been atrocious. Wall Street probably loves the employee unhappiness, investors not being the most caring types when it comes to seeing the value of their investments increase.
Hurd often gets portrayed as a boring Midwesterner, having spent the bulk of his career in Ohio, with NCR (NCR). As I wrote last year, the description was more caricature than verisimilitude. In fact, he was born something of a New York swell, played competitive tennis well enough to consider a pro career, and behind the scenes is the kind of guy who'd like to have a beer with, that is, if you like talking about business and sports. Friends and colleagues were universally shocked by the news of his professional demise Friday.
People close to him have speculated before that he couldn't possibly keep up indefinitely the pace he has set for himself. They've also noted that life truly is lonely at the top for Hurd. The executive suite bulked up its security in the Hurd era, causing a visitor to enter through locked doors that didn't exist under Fiorina. Hurd typically travels with a tiny entourage, not only unlike Fiorina but unlike most other Fortune 500 CEOs as well.
The sad circumstances under which Hurd is leaving HP, of course, have nothing to do with the state of the company, other than that a CEO is departing who arguably was as right a person for his job as Steve Jobs is right for Apple (AAPL). HP said as much in an unusually candid statement and followup comments to the press and investors, noting on the one hand that HP is in solid shape and on the other, in surprising detail, that Hurd had violated the company's code of conduct.
Who'd want this job next? The most discussed name undoubtedly will be Todd Bradley, who runs HP's computer business and spearheaded the recent acquisition of Palm. (I interviewed him, along with former Palm CEO Jon Rubinstein, July 22 at Fortune Brainstorm Tech in Aspen.) Bradley has won high marks for making HP No. 1 in PCs and doing it profitably in an unforgiving business. Bradley would be a safe choice. He has his stylistic difference from Hurd, but they are cut from the same cloth of operationally oriented business types.
Another name I saw pop up is Kleiner Perkins partner Ray Lane, a former president of Oracle (ORCL) who was in the running for the HP job at least once before. Lane's acolytes believe him to be a management guru who provides sage advice to Kleiner's portfolio companies, though he hasn't yet made a home-run investment as a VC. Lane has been out of the corporate game for a decade and was a management consultant before joining Oracle. Running a company with more than 300,000 employees would be a radical departure from the genteel world of Sand Hill Road.
The intriguing factor in choosing HP's next CEO is the presence of Netscape co-founder Marc Andreessen, now a venture capitalist and an HP board member, as a member of the search committee. Andreessen, who spoke Friday to reporters and investors, considers himself to be an engineer's engineer. Though he values the role of numbers guys at big tech companies, he has a tough time hiding his preference for innovators with technical chops, the types who know when the engineers are feeding the CEO a line of baloney. Under Hurd, HP succeeded despite its lack of innovation. It relied heavily, for example, on Microsoft's (MSFT) software, a way to keep costs down but guaranteeing HP a follower role in technology. It's easy to imagine Andreessen pushing for Hurd's departure as an opportunity shake up the innovation engine at HP with a different kind of leader.
Does the tech world have a non-founder with the financial acumen of a Mark Hurd and the innovative pizazz of a Steve Jobs? If that person could be found, would they want the job?
>